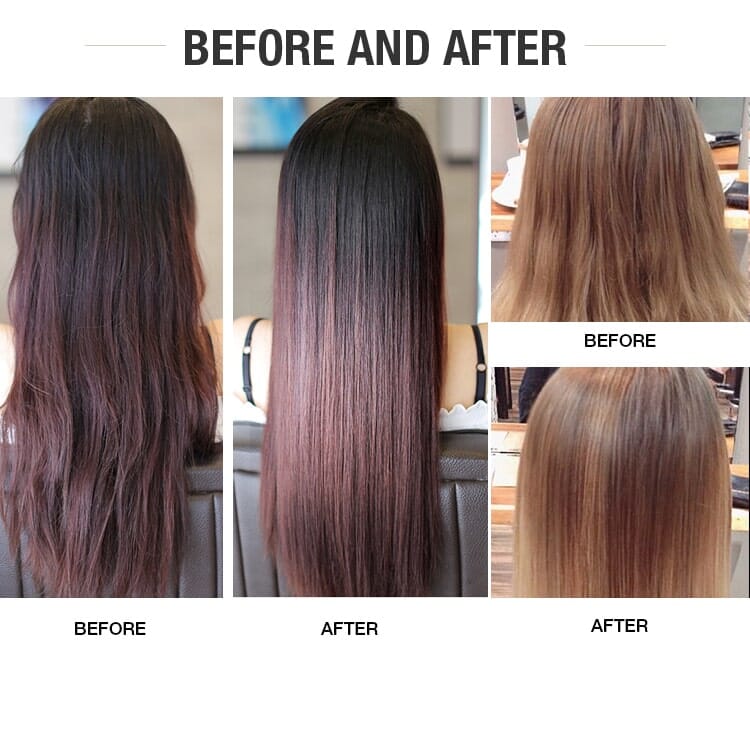 Argan Oil is a very popular hair care product. Argan Oil is derived from the fruit of the Moroccan Argan tree. Dense in vitamin E, Argan Oil is an excellent conditioner that also hydrates the scalp. There are many benefits to using Argan Oil in your hair care routine.
Vitamin E is known for its antioxidant properties which promotes new cell growth. When used in your hair (over time) hair will grow in stronger, smoother, shinier, and thicker. If you suffer from brittle, split ends, and thin hair, Argan Oil should be a product that you should look into using on a daily basis. It also moisturizes your scalp while fighting off dandruff and dry scalp.
Dying and chemically treating your hair can have some nasty side effects. This can make your hair look older than it really is. Argan Oil has been known to reverse the effects of our environment and our bad habits. It's also a great way to make your hair look shinier, less frizzy after just one treatment. So, now we know the benefits, how do we use Argan Oil to get that stronger, shiny, silky hair we all want?
Mix Argan Oil with your everyday shampoo
No one likes to change their routine. We're already very busy as is. However, if you take just a few seconds to add a few drops of Argan Oil to your shampoo, you will see positive results almost immediately. Who doesn't want to dry off from the shower and not see frizzy hair?
Argan Oil is a moisturizer for the hair and scalp. It's a source of vitamin E, oleic, acid and linoleic acid which has been proven to seal in moisture in the hair shaft and create a protective barrier that protects the hair from UV light and other external stresses. This barrier forms almost immediately and increases its positive effects with daily treatment.
Use Argan Oil as a leave in conditioner
Leave in conditioners have a bad reputation as it may leave a greasy feeling after application. Some have even complained that it makes it harder to brush hair making your hair clumpy mess. However, Argan Oil absorbs into the hair and scalp incredibly fast. Using Argan Oil as a leave in conditioner will affect your scalp the most. People who suffer from flaky itchy skin will want to apply Argan oil directly to the scalp.
You'll want to part the hair exposing the dry part of the scalp and apply a few drops to that area. You'll want to repeat this on other dry areas. When sufficiently covered, use your fingers to gently massage the oil into the scalp. This will help the skin to rejuvenate skin cells and help purge dead cells from the shaft of the hair. This will reduce the effects of Psoriasis and Seborrheic Dermatitis which are the most common reasons for dandruff.
Placing Argan Oil into the palms of your hands and slowly sliding your palms against your hair will apply a thin even layer of Argan Oil. The Argan Oil will absorb into the hair fairly quickly. It won't leave a residue or greasy film. This is why Argan Oil is a perfect solution for those who have a busy schedule. Right after application, you can start to style your hair and apply heat. It has been shown that the fatty acids in Argan Oil help to protect the hair during styling reducing split ends and breakage and helps to protect the hairs color.
Argan Oil has been shown to be a good sealer when it comes to protecting the dye in your hair. You may find yourself dying your hair less frequently. Vibrant colors last longer when an Argan Oil treatment routine is used.
Argan Oil hair mask
Just like a nightly skin routine, your hair can benefit from an overnight treatment. Remember, you won't need much Argan Oil to see an overnight transformation. We recommend you to use this method before an important event so that your hair will look healthy, shiny, and silky smooth the next day.
Just like a leave in conditioner, we recommend that you use a generous amount when applying it to the hair. Obviously, the longer your hair is, the more you'll want to apply. Ten drops should be enough for most people. Starting from the roots, use your fingers to comb in the Argan Oil down the length of your hair. This should apply an even coat of Argan oil throughout the strands. For those who have dandruff, you may want to add drops of Argan Oil directly onto the scalp.
Once you've successfully added the Argan Oil, place a shower cap on your head covering all of your hair. The shower cap achieves two things, it helps retain the heat from your body which helps your skin and hair to chemically interact with the oil and it also helps the oil to absorb deeper into the scalp and hair.
The longer you let the hair mask sit, the better the results. We recommend an overnight treatment but if you can't do that, you can leave it in for a minimum of a few hours. Afterwards, rinse your hair in the shower. You should see amazing benefits afterwards. We recommend doing this once a week, depending on how brittle and dry your hair is.
Conclusion
The best part of using Argan Oil is that it is 100% natural and is arguably the best thing you can put into your hair. You can see the benefits almost immediately. EMMYOR ARGAN OIL is 100% pure and organic and can accomplish your hair care goals. We hope that you explore organics as a substitute to harsh chemicals for your hair care routine and we hope you get to explore your natural beauty.
Read more